Game Industry Experience
Prototype Designer at Embark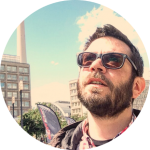 Stockholm – September 2020 – present
I work with game design prototyping and implementation on an unannounced project.
---
Enemy Designer & Scripter at Arrowhead GS
Stockholm – February 2019 – September 2020
I work in the AI team, designing and scripting behaviors for enemies in an unannounced project.
---
Teacher of Advanced Game Design
Stockholm – 2019 – Present
I held the course Advanced Game Design for the Game Design class at Futuregames. In this course I focused on teaching systemic and emergent design with a mix of theory, practical knowledge and exercises in accordance with Futuregames teaching style.
---
Junior Narrative Designer at Ubisoft Stockholm
Stockholm – August 2018 – February 2019
I worked with concept, narrative development and screenplay writing on an unannounced project and on the Avatar game.
---
Game Designer at HatRabbit AB
Stockholm – October 2017 – August 2018
I worked as game designer and developer, creating concepts and prototypes for new VR games and working with scripting, game design and UX. My duties included initial concept creation, designing and documenting features, creating features and systems and prototypes such as Viral Invasion. I also worked, as game designer and scripter, on the VR online multiplayer shooter Slightly Heroes.
---
Game Designer at Just Development AB
Stockholm – Summer 2017
I worked part-time, as a summer job, with the developers of the app Just Football to improve the game mechanics of their product. The app is a location-based game aimed at kids from 10 to 16 years old and it requires players to play football in real life to unlock features and bonuses in the game. The developers felt the app didn't have solid game mechanics so I worked in the weeks leading to the public launch of the app to a redesign and refocus all the features of the app. The app launched in the beginning of September 2017 and it reached the second most downloaded free app in the sport category of the App Store.
---
Game Design student at Futuregames
Stockholm – September 2016 – Present
I am currently a student at Futuregames 2 years-long higher vocational school of Game Design. I worked as developer and designer for a number of projects, both in teams and solo, using both Unity and Unreal Engine 4. My main focus has been game design, scripting (C# on Unity and Blueprint on Unreal Engine 4), UX/UI and managing teams. During the course I worked on, among other projects, a 3D platform-adventure, a VR game and I also created a level using an existing commercial game (Skylar and Plux: Adventure on Clover Island). For a portfolio including student projects please visit http://cinquemani.it/games-portfolio/
---
Founder, Game Designer, 2D Artist, Coder at Bumblebee Studios HB
Stockholm – June 2012 – June 2017
Founder, game designer, graphic artist, additional programmer and producer at the independent game
company Bumblebee Studios. At Bumblebee I contributed – together with another person – to the creation of the original casual iOS and Android games Derat Inc. (2012), Heads Will Roll (2015) and Breaking Brix (2016), the medical app La Mia Voce (2013) and different versions of Buy and Sell, an advergame for the classified sites Tayara, Bomnegocio and Guateganga (2013).
---
User Acquisition Specialist at Paradox Interactive
Stockholm – June 2014 – November 2014
As a User Acquisition Specialist I conceived, created and managed PPC and CPM campaigns promoting several games, DLCs, bundles and sales. I worked on a variety of different channels such as AdWords, Facebook, YouTube, AdRoll, Reddit, plus several game-related networks and custom-made display campaigns on many of the biggest sites in the game industry (PC Gamer, RockPaperShotgun, the Eurogamer network). I also planned and oversaw the creative part on some of these campaigns.
---
QA and Localisation Tester at Rockstar Games
Lincoln, UK – January 2006 – August 2006
I worked as a QA and Localisation Tester for Rockstar Games, in Lincoln, UK. My duties involved both generic bug testing and localizing the Italian localization. Games I worked on: Grand Theft Auto Liberty City Stories (PS2), Prey (PC), Bully / Canis Canem Edit (PS2), Warriors (PSP), Grand Theft Auto Vice City Stories (PSP).
---
Marketing and Journalism Experience
Digital Strategist at Keybroker AB
Stockholm – March 2015 – August 2016
In this position I worked mostly on creating digital marketing strategies for a variety of clients, including some of the largest e-commerce actors in Sweden. My main area of interest was consulting on SEO, CRO, UX, content marketing and other inbound marketing techniques. In this position I was also responsible for the work of other digital specialists.
---
SEO Expert at SCM Ventures
Stockholm – October 2010 – June 2014
SEO Expert working on classified websites for SCM Ventures, a company belonging to the Schibsted Group. My main duties included developing on-site and off-site optimization, online PR and organic user acquisition strategies for several very large (100+ million pageviews per month) international websites, working in different markets and different languages.
During my employment I maintained a constant growth of organic traffic to the sites I worked on, with averages up to +300% year over year.
---
Senior Site Manager at Web Guide Partner AB
Stockholm – February 2009 – October 2010
Site manager for the websites pokerlistings.it and italiapoker.it. Duties included Search Engine Marketing, on- and off-site Search Engine Optimization and production of editorial content. My main target was to increase the leads and traffic for the website and develop partnerships with other websites. I was promoted Senior Site Manager in March 2010.
During my period at WGP the sites I worked on increased the number of conversions more than 200%, with a prolonged growth of relevant, high-quality traffic.
---
Assignment Manager at Besedo AB
Stockholm – January 2007 – January 2009
I managed the team that took care of the customer service and user generated content moderation operations. The team worked on the classified website Subito.it. My duties included measurement of efficiency and productivity of my team (ca.10 people).
I also worked as an external consultant for similar client websites in other markets (Blocket.se in Sweden, Compraventa.com in Spain, Custojusto.pt in Portugal) setting up customer service and moderation operations and testing.
---
Journalist at Edizioni/Edizioni Master/Future Media Italy et al.
January 2001 – October 2010
Contributor and editor for a wide variety of paper magazines and websites, including the Official Xbox Magazine and the Italian version of Edge Magazine. My range of work included news, reviews, features and interviews, mainly about videogame and technology (more details upon request). Amongst other projects, I am one of the hosts of the oldest Italian videogaming podcast, Ringcast, and I founded and managed the videogaming blog Single Player Coop.
---
Education
Futuregames
Game Design program, 2016 – 2018
University of Palermo
Bachelor degree, Journalism, 2000 – 2005
---
Languages
Italian (Native or bilingual proficiency)
English (Full professional proficiency)
Swedish (Professional working proficiency)
Spanish (Elementary proficiency)
---
Skills
Game Development
Unity 3D – 5+ years of use 
C# scripting on Unity 3D
Visual scripting
Unreal Engine 4
UI/UX
JavaScript and LUA scripting
Perforce, TortoiseSVN, Sourcetree
Scrum methodology
Photoshop, Illustrator and Manga Studio 5
---
Marketing
Google AdWords (certification)
Google Analytics (certification)
Excel
Unity Analytics
Various other testing, analytics, email marketing, SEO, CRO and marketing suites